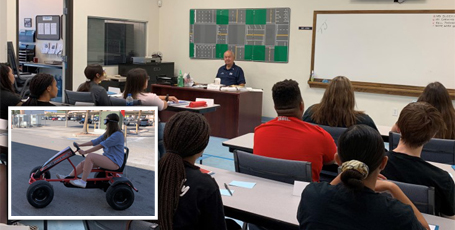 Driver Education Classes
This program is designed and required for teens under 18 years who desire to obtain a driver's license in the State of Nevada. The minimum age is 15 years for attendance. The driver education course is preferred to be taken first because it prepares the student for the Department of Motor Vehicles written test to obtain the learner's permit.
The driver education course is in a classroom environment which we believe is best for the student.
The instructors are knowledgeable and patient.
Brief tutoring is offered to those students who may have a learning disability, English as secondary language (ESL), but functional in the classroom.
This course is offered on the weekends throughout the year. During the Summer, Spring Break and Winter Break the course is offered from Monday to Friday each week until school begins.
Students experience the simulated effects of alcohol by using our pedal kart with unique goggles.
Virtual Reality goggles are used during a segment of the program to experience the likeliness of driving into a flooded roadway.
This is a great place to meet new friends and work with others.
The classes are held in our classroom located at 8515 Edna Ave Suite 160, Las Vegas, Nevada, 89117 (corner of South Durango Dr. and Edna Ave.). There are fast food restaurants located near the school for students who prefer to each lunch between classes.
Check our schedule online for dates and times to register and enroll.
Students may easily enroll online or over the phone (702) 892-0500 during normal business hours.